Business Services
What You and Your Business Need Now
An attempt has been made to include every possible business requirement that Robert can facilitate. However, the truth is there is no limit to any business or technical need, especially considering the wealth of resources available to Robert, including those beyond his own abilities. As a professional consultant in the Los Angeles area for many years, Robert has relationships and access to the best stable of professionals available, anywhere. This includes all genres and areas of expertise ranging from Clerks and Programmers to Executives' and System Architects (for the film industry… Actors, Directors, Writers to crew, above or below the line).

If you have a great new idea for a mobile app, speculative project, or a business / office requirement that's not listed here please let us know, chances are Robert can help.


Technical - Professional Services
Project Planning & Implementation
Proper planning of a technical project is always a critical and tedious job. The project plan depends on several dynamic factors and variable prerequisite reports. For example, consider the following steps to start a New System Development project prior to the completion of the project plan: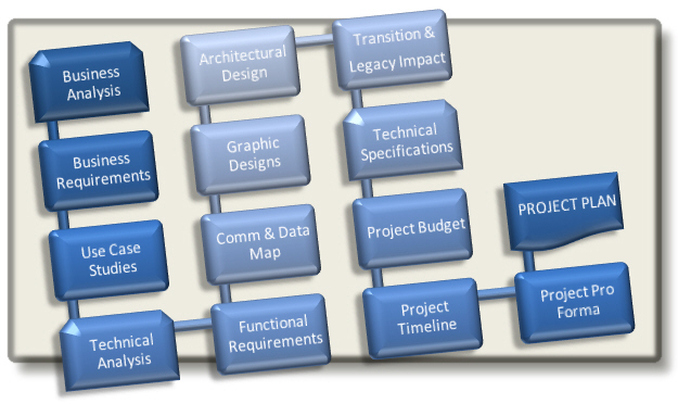 Of course, some of these reports may not be necessary with some projects, or there may be more analysis for particularly difficult or large projects. However, the best way to ensure a project is built exactly to the business need, on time and on budget is to thoroughly complete every report in the due diligence process. Each step supports, ratifies and justifies expense, time and resources.

Robert has personally completed many of these reports, and many more not listed. His experience is extensive in project preparation, documentation and analysis. Not only is he capable of performing all the analysis, projections, and design, but also creating the proposals, solicitation material, Powerpoint presentation, informing and maintaining stakeholder interest and enthusiasm throughout the entire process.

Robert has personally implemented projects of all sizes including many above the $1 million level. As the Director of Enterprise Management Systems for Toyota Motor Sales, he was responsible for dozens of projects from beginning to end. As a high-level IT executive, at any given time he had the responsibility of more than 12 Senior Project Managers as direct reports, each with multiple direct report Project Managers themselves. If the planning is done properly, every project can succeed while minimizing risk.

---
---
Planning Services
Request for Proposal (RFP)

Statement of Work (SOW)
Project Proposal
Project Presentation
Business Analysis
Business Requirements

Use Case Studies

Technical Analysis
Functional Requirements
Graphic Designs (Design Drawings)
Architectural Design
Database Design

Comm & Data Map (COM Design)
Technical Specifications
Project Budget / Pro Forma
Project Timeline
Needs Assessment
Project Plans
Implementation Services
Project Management
Project Coordinator
Project Administrator
Project Research Analyst
Programmer

Business Analyst
Technical Analyst
Systems Developer
Systems Architect
Database Architect

Database Programmer
Database Administrator
Documentation / Writer
Presentation Copywriter
Subject Matter Expert (SMA)
---
Executive, Management, Clerk & Office Services

Office Services
Business, Operations & Project Plans
Corporate Planning (small biz)
Start Up Plan
Capital Raise Plan and Execution
Office Policy Design
Film Project Planning · Funding
Strategy Building
Policy & Procedure Implementation


Office Management, Staff·Expenses

Software Training, any system
Spreadsheets: Design·Build·Debug
Database: (Access): Design·Build
PowerPoint: Presentations
Email: (Outlook) iMAP·MAPI·POP
Cloud: Config, Dropbox·Google
Sync: iTunes·GoodSync·RoboForm

Setup, Troubleshoot: Win 7·8·MAC
Server: MS Server·Exchange·CLOUD
Content management, file separation
Mobile Device: Setup·Syncing
Data Entry, bookkeeping·accounting
Clerking, AP·AR (Any system)
Sweep Floors·Empty baskets·Make coffee
Services - Roles - Positions
Clerk
Manager/Supervisor
Executive
Process / Research Analyst


Programmer
Business / Systems Analyst
Project Coordinator
Documentation Writer

Project Manager
System Architect
Database Design
System Design

Services - NOTES
Proposal for All Services is Complimentary
Proposed rate variable factors include (but not limited to)
· Engagement type: 1099 · W-2 (both are available)
· In-House or Telecommuting (both are available)
· Timeline, schedule flexibility
·
Business requirements (deliverables)
·
Task difficulty level
·
Skill level of available resource(s)
·
Hourly or Project based compensation (both are available)
·
Engagement term (length of agreement)
Other Services Provided for Technical & Non-Technical Projects...
·
Raising capital, finding partners (available for any business, with special expertise in):
· Film Production Raises
· Residential Real Estate
· System / Software (Enterprise, Desktop or Mobile Device Development)
Services are estimated by hourly or blended hourly rates